Welcome to OPPEIN Cabinetry:
Trusted Source for Wholesale RTA Kitchen Cabinets
Why Choose RTA Kitchen Cabinets?
​
Affordability
RTA kitchen cabinets provide an affordable alternative to traditional custom-built cabinets. With our wholesale prices, you can save significantly without compromising on quality.
​
Customizability

Our RTA kitchen cabinets offer a high level of customizability. You can choose from a variety of styles, finishes, and accessories to create a kitchen that reflects your unique taste and preferences.

​
Easy Installation
RTA cabinets are designed for easy installation and assembly. They come with detailed instructions and require minimal tools, making it a convenient option for homeowners and contractors alike.
​
Durability

Crafted using premium materials, our RTA cabinets are built to withstand the test of time. With proper care, they will maintain their beauty and functionality for years to come.
​
High-Quality
RTA Kitchen Cabinets.
​OPPEIN Cabinetry offers a wide selection of premium ready-to-assemble (RTA) kitchen cabinets, designed to elevate kitchen spaces. As a leading wholesale supplier of kitchen cabinets, we pride ourselves on delivering top-quality products that meet the diverse needs of our B2B customers.
Read More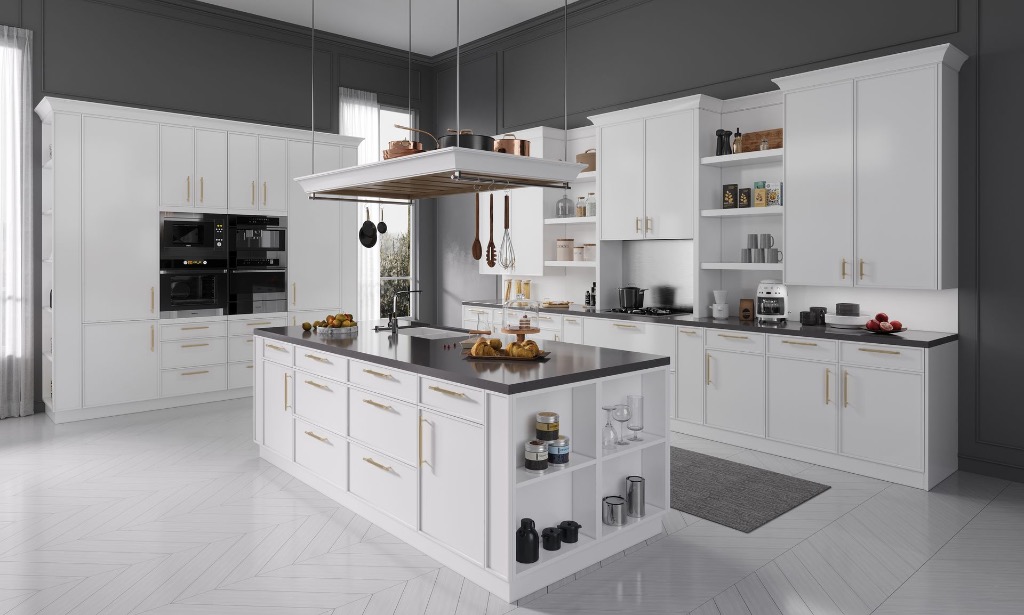 ​
Below Wholesale Pricing
​
Superior Quality Guaranteed
Sign Up Today
To Unlock Your Dealer Price!

​Striving for Perfection
---
1 - Door Panel for diversified Choices
2 - 6 Ways & soft-close hinge for easy adjustment
3 - 3/4" plywood shelf and side panel for best quality
4 - Adjustable Legs 4 1/4"~5 1/4" for more adjustable space
5 - 5mm back panel with top and bottom enforced rail for Classic Euro style
6 - Metalbox Drawer System for minimalism style:
a. 1/2" metal side panel with OPPEIN logo on both sides
b. 5/8" melamine laminated plywood for bottom and back panel
c. concealed slide
7 - Aluminum & Door Material Toe-kick for different design
8 - Screw with dowels for easy assembly & sturdy structure
9 - Full-access & Soft-closing drawer for modern experience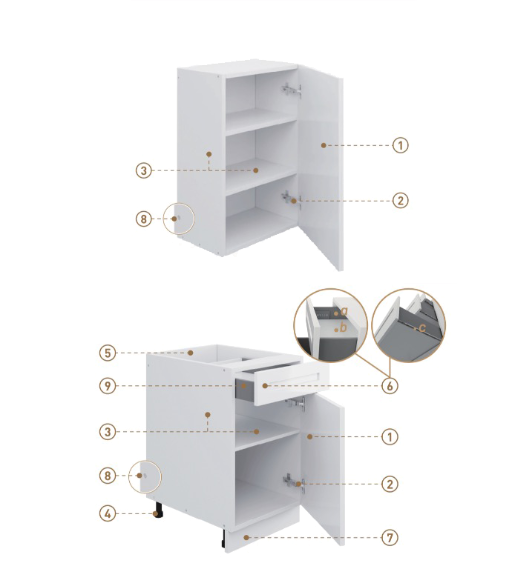 Functional

Integrated doors & boxes

Style

Classic & moderate layout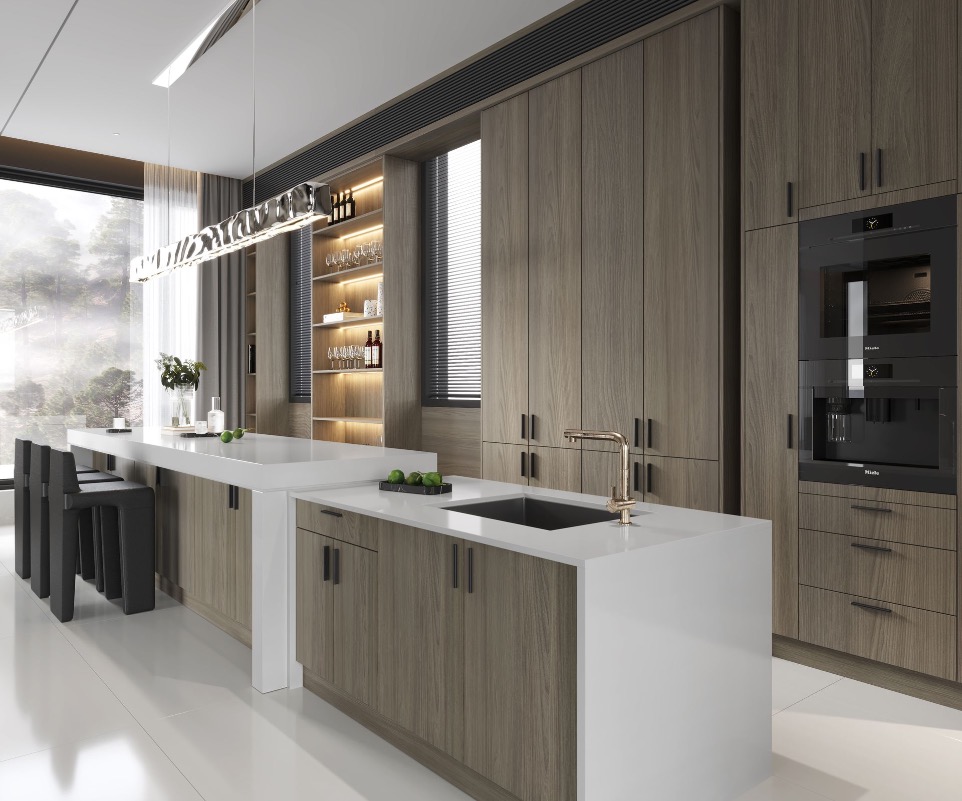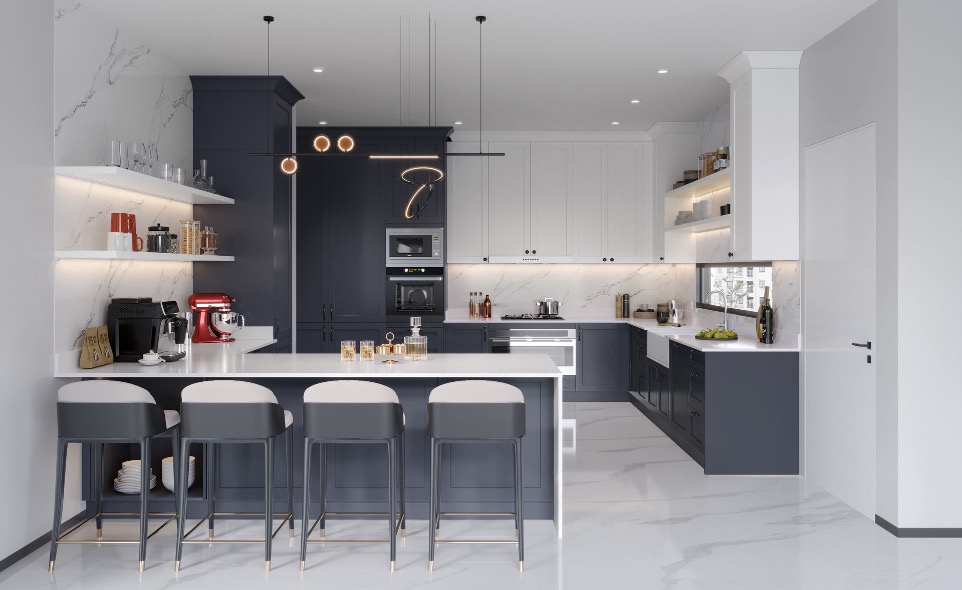 Structure

L-shaped with storage and display functions

Design

Lines of the open storage layer

Explore Our Extensive Range of RTA Kitchen Cabinets
At OPPEIN Cabinetry, we understand that every kitchen is unique. That's why we offer a vast range of RTA kitchen cabinets to cater to various design styles and budgets. Here are some of the options available.
​
Traditional Elegance

If you prefer a classic and timeless look, our traditional RTA cabinets are an excellent choice. With intricate details, rich finishes, and ornate hardware, these cabinets exude elegance and sophistication.
​
Transitional Charm

Blending the best of both worlds, our transitional RTA cabinets combine traditional and modern elements. This versatile style suits a wide range of kitchen designs, offering a harmonious balance of classic and contemporary.

​
Modern Simplicity

For a sleek and minimalist aesthetic, our modern RTA cabinets are the perfect fit. Clean lines, smooth finishes, and contemporary hardware create a fresh and stylish atmosphere in your kitchen.
​
Customization Options

In addition to our pre-designed RTA kitchen cabinets, we also offer customization options. Our team of experts can help you bring your unique vision to life by tailoring the cabinets to your exact specifications.
SHAKER SERIES

The narrow shaker detail gives it a touch of modern styling while maintaining a classic feel. The frame material is E1 HDF, the core material with E1 HDF formaldehyde emission ≤0.124 mg/m3, and the stiles and rails are connected by tenons.
SLAB SERIES

Superior screw holding capacity and load bearing capacity. The HOMAG machine finishes all processes with excellent moisture and starch resistance. A variety of choices while price is more acceptable.
HIGH GLOSS SERIES

.Despite the shiny and glass-like plexiglass coating, these products have a great effect on the beauty of modern and simple design. Shows the space brighter due to having shiny surfaces and light reflection. The smooth and shiny surface of these cabinets makes them easy to clean
Experience the Convenience of Wholesale Cabinets
As a B2B customer, we understand the importance of convenience and efficiency.
That's why we strive to provide you with a seamless experience when purchasing wholesale RTA kitchen cabinets.
​
Competitive Wholesale Pricing

We offer competitive wholesale pricing to ensure that you can maximize your profit margins. By partnering with us, you gain access to high-quality products at affordable prices.
​
Efficient Order Processing

Our streamlined order processing ensures that your orders are handled promptly and efficiently. We work closely with you to meet your delivery timelines, ensuring a smooth and hassle-free experience.

​
Extensive Inventory

With our extensive inventory, you can find everything you need in one place. Whether you're working on a small residential project or a large-scale commercial development, we have the cabinets to meet your requirements.
​
Customer Support

Our dedicated customer support team is always ready to assist you. Whether you have questions about our products, need assistance with customization options, or require post-sales support, we're here to help.
​
Apply now to become a dealer.
​
Will get in touch with you
One of our sales representatives will contact you to sign the agreement.
​
Order your Cabinets
Order online, over the phone, or by email.
​
Get your Order
Pick up or ask for deliver.
Frequently Asked Questions
Upgrade your kitchen with premium wholesale RTA kitchen cabinets from OPPEIN Cabinetry. Our extensive range of customizable options, competitive pricing, and exceptional customer support make us the ideal partners. Discover the convenience, affordability, and quality of our RTA cabinets today. Transform your kitchen into a space that exudes style and functionality while maximizing your profit margins.
Contact us now and let us help you create the kitchen of your dreams with our top-notch RTA kitchen cabinets.
Are RTA kitchen cabinets of good quality?
Absolutely! RTA kitchen cabinets, when sourced from reputable suppliers like OP PEIN Cabinetry, are made from high-quality materials and undergo rigorous quality checks. Our cabinets are designed to withstand the demands of daily use and provide long-lasting durability.
Are RTA cabinets easy to assemble?
Yes, RTA cabinets are designed for easy assembly. They come with detailed instructions and all the necessary hardware, making the installation process straightforward. However, if you prefer professional assistance, you can always hire a contractor to handle the assembly for you.
Can I customize my RTA kitchen cabinets?
Certainly! At OPPEIN Cabinetry, we offer customization options for our RTA kitchen cabinets. From choosing the style, finish, and hardware to incorporating specific design features, you can personalize your cabinets to suit your unique preferences.